AND THEN THERE WAS THIS TIME I WENT TO JAPAN…
April 6, 2014
About 8 months ago, a young woman named Lindsey Pavao sent out a message on Twitter.  I can't remember the exact wording, but the general gist was that she was booking her first tour through Texas and wanted some suggestions about venues to check out. We had never met, but I liked her music and sent out a few of my standard Austin suggestions. Fast-forward a little more than half a year and we spent 10 days making music and traveling in Japan together.

How did that happen, you may wonder?
Well, the internet is a vast network of wires and tubes. Some say Al Gore invented it. Some say it was the CIA. I say whoever the culprit was, I'm grateful to them because it brought Lindsey and I together by way of a lovely woman in Tokyo named Chelsea. See, while Lindsey and I were tweeting about venue ideas for her upcoming tour, Chelsea was inspired to chime in. 
"You two are my favorite singers from 'The Voice'!" she said. "You should go on tour together!!!!!"
On a whim, I clicked on Chelsea's profile, just to get any information I could quickly glean with which to personalize my reply. To my surprise, I saw that this blond-haired, blue eyed girl lived in Japan so I responded "That would be awesome! We should bring the tour to Tokyo! Lol ha ha ha" etc etc. 
Even more surprising was Chelsea's response: "That would be amazing! We love it when American artists come perform on base! Would you like the contact information for the person in charge?" 
Yes, Chelsea. Yes I would.
A few days later, Chelsea made good on her word and sent us the email contact for the person in charge of booking entertainers on base. I immediately sent an email offering my and Lindsey's services. The contact on the other end of the line was interested and asked for more details. We corresponded for months until all of the details were set and despite temporary hurdles such as personnel changes and government shutdowns, we eventually contracted one show and workshop for the residents of Yokota Air Base outside of Tokyo, Japan. 
For months leading up to the show, it seemed like a dream. I didn't want to jinx it by assuming it would come true. I kept referring to it as 'the two weeks in March where I'm either going to Japan or getting to take some time off.' Gradually, though, the details fell into place. Contracts were signed. Deposits paid. Tickets bought. 
I left Austin at 6 am on Wednesday, March 19th and landed in Tokyo at 4:15 pm on Thursday, March 20th. Lindsey's flight landed an hour before mine, so she had already met with our guide Spike and been interviewed by Japanese TV. #WelcomeToJapan.
Spike was our main contact on base at Yokota. He made it his personal mission to balance the chaos of our artistic brains with order, ease and a very detailed schedule that started every day at oh seven hundred hours. He lead us, bewildered, through the airport, first to fetch my bags and then to the post office where I picked up the iPhone I had rented for the duration of our stay (one of several great travel suggestions I received from my friend Keith before I left the US). Next we headed to the train station office to have our JR passes validated (the suggestion to purchase a 7-day rail pass came from Matt the Electrician, who has toured in Japan no less than 7 times in the past 9 years). 
The first major difference I noticed between the US and Japan is that at the Tokyo airport, the luggage carts are free. It seemed incredibly civilized. After pushing our luggage out to the curb of the parking garage, I noticed that the cars are driven from the right side of the vehicle, in the left lane of the road. Somehow I didn't know that Japan was one of the countries that drove on the left side of the road. It occurred to me that maybe I didn't know all that much about Japan.
It was a little before 6 pm when Lindsey, Spike and I climbed into the giant, silver, 14-passenger van that would transport us to base. I was surprised to learn that the drive would take 3-4 hours. I don't know why this surprised me, I had just assumed it would be closer. Spike asked if we were hungry and I realized I was, or at least I would be before the end of a 4 hour drive. He made plans for us to stop at a shopping mall along the way where we could find a meal in the food court. 
We entered the mall through a Sports Authority with an enormous ad for shoes featuring Justin Bieber (to be clear: it was the ad and not the shoes featuring the Biebs). Spike led us through the food court to a machine that converted dollars into yen. At the time of our trip, 98 yen were equivalent to 1 American dollar, basically meaning that every American cent equaled 1 yen. Even though I knew somewhere in my brain that a yen equaled a penny, it was still pretty exciting to have a bunch of 1000 yen bills ($10). It was also strange to hold a 500 yen coin knowing that it was worth about $5. Money is weird.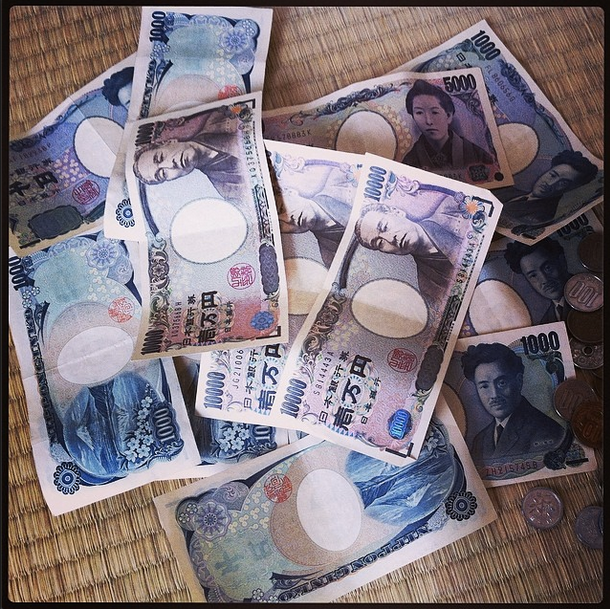 We ate sushi at a restaurant in the mall that was better than 99% of the sushi I have ever had in my life. During the meal, Spike and and our driver Hamo (who, it turns out, is a professional snowboarder!) told us a little bit about Japanese customs. For example: one should never hand money directly to someone – it's considered rude. Also: there is no tipping. Everyone is paid a full wage for their work and to leave them extra money can be insulting. If you want to give someone a gratuity for a job extremely well done, you must put it in an envelope to signify that it is a gift. 
When the bill came, the server dropped off a tray with the check on it, and Lindsey and I excitedly counted out yen coins for the exact amount we owed. Spike looked at our wobbling towers of coins and told us to put them away, that he would cover the bill. I wondered if we had done something wrong – is building wobbly towers of yen considered rude? When we tried to protest and pay for our own dinner he laughed and said that he was in the mood for coffee. If we wanted, we could buy him Starbucks on the way to the van. And that is how, on my first night in Japan, I found myself in a Starbucks. 
Back in the van, I was very impressed by Lindsey's ability to drink half a cup of coffee and fall dead asleep while holding it in her hand. I, too, was exhausted by the long flight, but I'm so caffeine sensitive that if I had drank any coffee I would not have been able to fall asleep. And even if I had, I would definitely have spilled it on myself. Not Ms. Pavao, however.
As the van wove in and out of nighttime Tokyo traffic, Spike pointed out downtown landmarks, colorful boats in the harbor, significant buildings and magnificent bridges. We murmured appreciatively, until I realized mine was the only voice murmuring. And then the van grew warmer, the sky grew darker, and there was only the hum of the road and velvety darkness between my ears. 
I must have slept for at least two, maybe three hours when we arrived at the bright front gate of Yokota Air Base. Armed guards pointed us over to the office where we trudged inside, rubbing our sleepy eyes, and produced our passports and travel orders signed by the commander of the base. Someone from higher up Spike's chain of command was on hand to vouch for us and provide us with temporary passes to allow us onto the grounds. We shoved all the paperwork back into our purses and tumbled back into the van, which slowly rolled towards the inn on base where we were staying. Spike helped us each to our rooms, efficiencies with living rooms, bathrooms, bedrooms and small kitchens. My head hit the pillow at midnight on Thursday, Tokyo time. 10 am in Austin.